'We love putting smiles on people's faces' 
For anyone who loves Cape-Breton-style fiddle music with a twist, played by a mainlander, take note! Alycia Putnam & Family, a band which originated in Brookfield and has something for everyone, recently reached the 20-year milestone.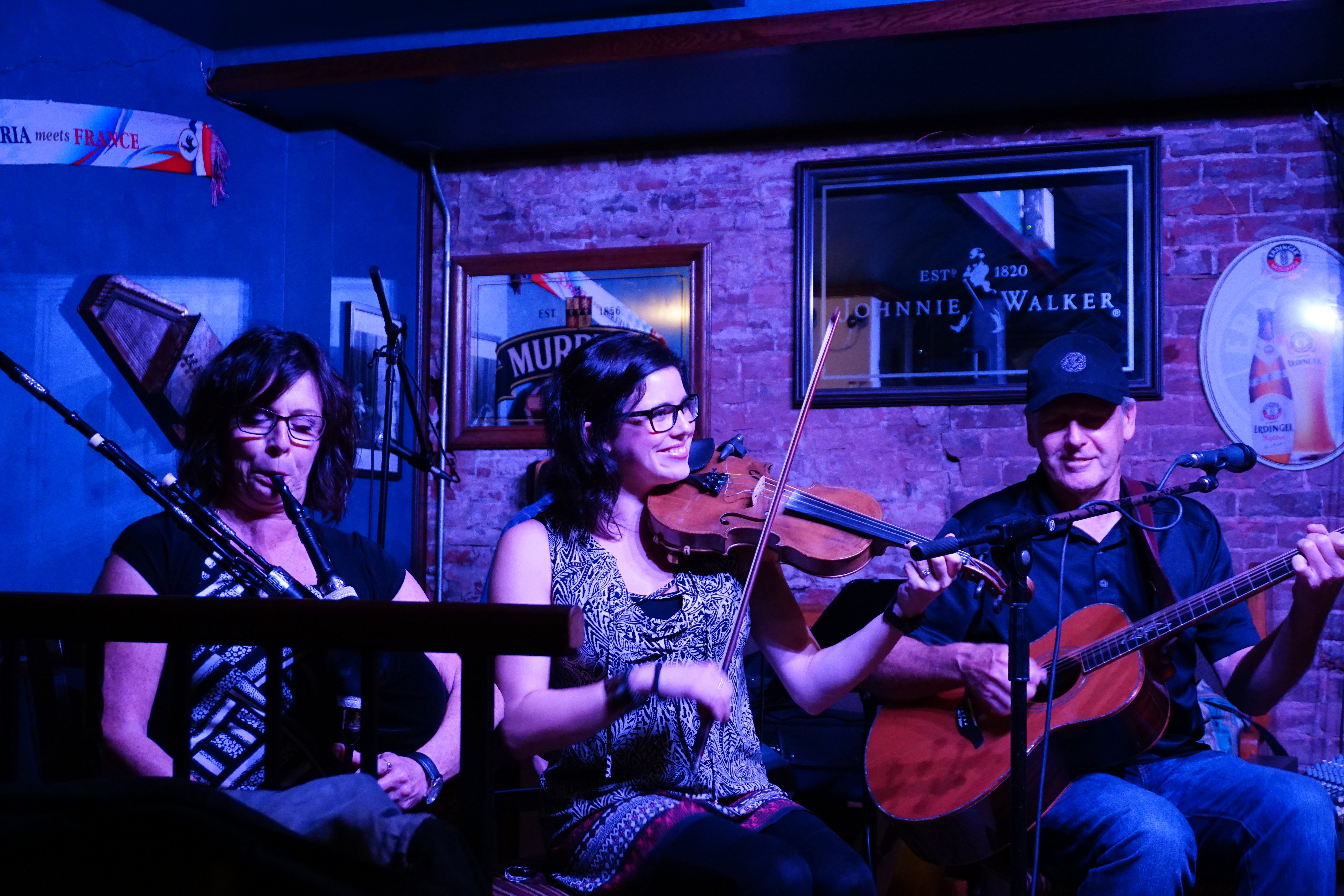 SUBMITTED PHOTO 
From left, Kelly Putnam, Alycia Putnam and Robert Putnam, of the Alycia Putnam and Family band, are shown playing at the Old Triangle in Halifax. 
The band includes Alycia playing the fiddle and step dancing, her father Robert Putnam playing the guitar and her mother Kelly playing the bagpipes. 
Since her performing career took off in the late 1990s, Alycia has amassed a network of artists she regularly adds to her live performances. Her core family band can be expanded to feature percussion, bass, vocals, banjo and mandolin. Alycia's younger sister Janelle, who also dabbles with instruments, makes occasional guest appearances. 
"I don't think we ever thought about making it 20 years together as a band," Alycia said. "It has basically been a way of life. The gigs all start to blur together, but the fun we have never changes. I am very fortunate to have such a great support system, a family that loves to play music as much, if not more than I do. I can barely keep up with them sometimes." 
For many years, the band maintained 100-plus shows annually. "Over the years, Alycia has managed the majority of client relationships," Robert said. "She leaves travel and logistic details to her parents." 
The family has performed at a wide range of venues including the Marigold Cultural Centre in Truro, the deCoste Centre in Pictou, Louisburg Playhouse in Cape Breton, Wentworth Ski Hill, the Gathering of the Clans Canada Day Celebrations in Pugwash, Fox Harb'r and numerous festivals, weddings and corporate events. In Halifax, they appear at the Old Triangle monthly. Music has provided the opportunity for the Putnam family to meet amazing international musicians and has exposed the group to many new experiences. 
"It has taken us to corporate conventions in Halifax, Fox Harb'r and New Brunswick," Robert said. "Quite the thing for a kid. The deCoste Centre in Pictou has been a big influence on Alycia's career. Thanks to John Meir, as well as Darlene, Dave, Al and Troy, we have been given the opportunity to share our music and the stage with many great musicians and promoters." 
Inspired at the age of nine when she saw Natalie MacMaster in concert, Alycia began working on a deep repertoire of foot-stompin' tunes. The result of this dedication has been three solo recordings and thousands of live performances. 
Alycia's most recent album, Wired for Sound, includes 13 tracks of traditional to more eclectic fiddle music and the immense talent of 10 of the province's most well known musicians. 
Celtic Life International had this to say about the album. "An engaging and entertaining selection from one of North America's finest young ddlers. Wired for Sound captures and conveys the Celtic Heart with great creative charm." 
The family's love of performing resonates with audiences. "We love putting smiles on people's faces and it becomes more than just music. I'm not a perfect player – it is much more important to me that we have fun and bring the audience along for the ride." 
Alycia said there's no fighting over the microphone. "There's no arguing over who gets to talk, but more so – who has to talk. For a group that loves performing as much as we do, all our band members are quite microphone shy." 
Robert, an outstanding former athlete who starred for the 1980 Canadian Senior Fastball Championship winning Brookfield Elks, says they have their lighter moments. 
"At least once a year someone will come to me after a show and say, 'you must be thrilled to play with your two daughters on stage.' Kelly gets a kick out of that. I've also been asked on occasion; 'do you know the Robert Putnam who pitched for Brookfield Elks' or 'are you Robert Putnam who pitched for the Elks?' I think to myself, yeah, I used to be someone once." 
When Alycia began taking lessons 20 years ago from local musician Gordon Tucker, her father agreed to pay for the lessons as long as she practiced. "She never paid for a lesson," Robert said. 
Fun, unquestionably has a lot to do with their longevity. 
"We're so lucky to be able to play music so long as a family," Kelly said. "People have asked if we get tired, you're rarely tired when you're having this much fun."

- Lyle Carter
Truro Daily News (November 29, 2016)